Notes
Gemütlicher Tauchgang, Mario führt, viel Zeit im Flachen verbracht, da viele Fische und wir finden (glauben wir zumindest) die "Rote Wiese". Hechte, geduldige Krebse unter der 8er-Plattform, richtige Schwärme an Flußbarschen - am Schluss noch zwei richtig große, die sich am Griller auch gut machen würden!
Ein paar schöne Fotos gemacht, Handling der Kamera funktioniert jetzt auch im See wirklich gut.
Photos
(11)
Dive profile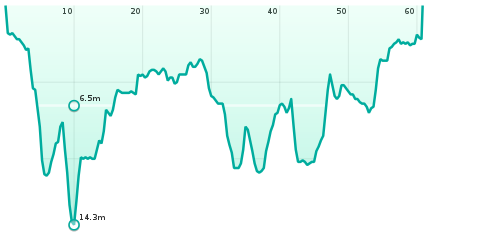 Duration: 1h 00 minutes, maximum depth: 14.3m, average depth: 6.5m
Diver

50 dives • 174 photos
Alex did this dive on Jul 10 2011 in Neufelder See (at Strandbad), went in at 11:24, reached a maximum depth of 14.3m, and surfaced after 1h 00 minutes.
Location




Neufelder See, Burgenland, Austria
Buddies
Air Consumption
12
liters
16.0 l/min SAC
198bar start pressure
64bar end pressure
21% oxygen (air)