Notes
Vom kleinen Parkplatz runtergekraxelt - schwitz! Unter Wasser sehr schlechte Sicht, keine 3 Meter. Die tolle Felslandschaft sieht man manchmal erst, wenn man schon dagegenstösst. Wenig Fische (ganz am Schluß eine Rotfeder?), aber viele Muscheln an den zahlreichen Holzstämmen und -stangeln. 5kg Blei mit der 15-Liter-Flasche sind mehr als genug.
Am Schluß noch ein wenig im Flachbereich herumgegrundelt - dort sieht man ja doch am meisten.
Photos
(7)
Dive profile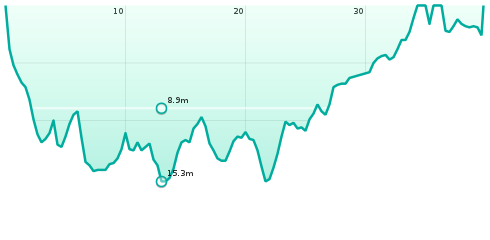 Duration: 39 minutes, maximum depth: 15.3m, average depth: 8.9m
Diver

50 dives • 174 photos
Alex did this dive on Aug 06 2011 in Grundlsee (at Gößler Bucht (Glocke)), went in at 09:59, reached a maximum depth of 15.3m, and surfaced after 39 minutes.
Location




Grundlsee, Styria, Austria
Buddies
Air Consumption
15
liters
21.5 l/min SAC
217bar start pressure
109bar end pressure
21% oxygen (air)