Notes
Erster Tauchgang auf der "anderen Seite" des Neufelder See. Nur etwa 5 Taucher, da Montag. Unter Wasser verirren wir uns prompt nach der 8m-Plattform, finden dann aber dafür eine von Krebs-Löchern übersähte Wand, einen etwa 60cm großen Hecht, und einen ganzen Schwarm sehr fetter Karpfen. Generell scheint auf dieser Seite mehr Fisch zu sein als auf der Strandbad-Seite.
Eher bescheidene Sicht, aber dennoch ein gemütlicher Tauchgang (mit kurzer Pause zwecks Orientierung vor dem Rückweg..)
Dive profile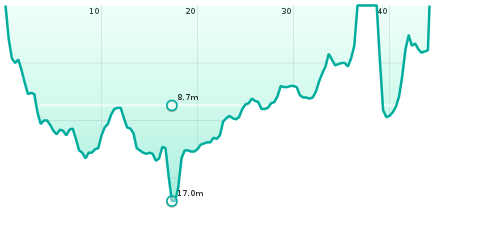 Duration: 44 minutes, maximum depth: 17.0m, average depth: 8.7m
Diver

50 dives • 174 photos
Alex did this dive on Jul 09 2012 in Neufelder See (at Tauch-Sport Vienna), went in at 08:25, reached a maximum depth of 17.0m, and surfaced after 44 minutes.
Location




Neufelder See, Burgenland, Austria
Buddies
none listed
Air Consumption
10
liters
17.5 l/min SAC
202bar start pressure
58bar end pressure
21% oxygen (air)