Notizen
First of two dives with Vancouver's Diving Locker "saturday drop in dive".
Close to zero visibility in top 3 meters (freshwater runoff), then good visibility (but dark) below. Lots of Rockfish, Lingcod, huge plumose anemones..
7mm wetsuit plus 7mm ice vest was fine for the first ~25 minutes of the dive, then started to feel cold. Most others were in drysuits.
Diving togeter with Klaus N., took a few interesting pictures, but hard because the flash illuminated mainly particles.
Fotos
(5)
Tauchgangs-Profil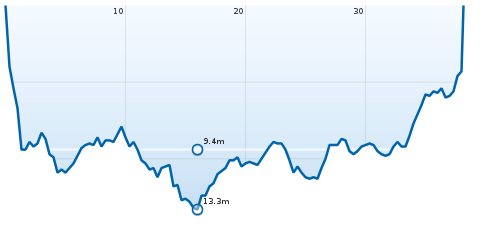 Dauer: 38 Minuten, maximale Tiefe: 13.3m, durchschnittliche Tiefe: 9.4m
Taucher

50 Tauchgänge • 174 Fotos
Alex hat diesen Tauchgang am 29 Jul 2012 in Porteau Cove, BC (bei Marine Park) durchgeführt, ist um 18:26 abgetaucht, erreichte eine maximale Tiefe von 13.3m, und ist nach 38 Minuten aufgetaucht.
Ort




Porteau Cove, British Columbia, Kanada
Buddies
keine angegeben
Luftverbrauch
10.7
Liter
19.7 l/min Verbrauch
202bar Startdruck
62bar Enddruck
21% Sauerstoff (Luft)