Notizen
2nd dive with Vancouver's "Diving Locker" Saturday drop-in dive, this time swimming out to the Granthall wreck (an artificial reef). Again, close to no visibility in the top 3m layer of the water (which was also nearly pure freshwater). Reasonable visbility below that (~10m?). Granthall lies between 5 and about 18m depth, so it's very easy to dive around it - would be even possible to penetrate the wreck (mostly the hull is left), but i'm not trained for that. Flashlight would have been useful.
Fotos
(7)
Tauchgangs-Profil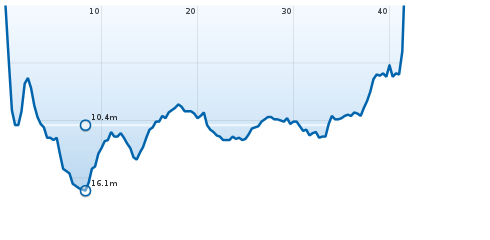 Dauer: 41 Minuten, maximale Tiefe: 16.1m, durchschnittliche Tiefe: 10.4m
Taucher

50 Tauchgänge • 174 Fotos
Alex hat diesen Tauchgang am 29 Jul 2012 in Porteau Cove, BC (bei Granthall Wreck) durchgeführt, ist um 20:35 abgetaucht, erreichte eine maximale Tiefe von 16.1m, und ist nach 41 Minuten aufgetaucht.
Ort




Porteau Cove, British Columbia, Kanada
Buddies
keine angegeben
Luftverbrauch
10.7
Liter
16.9 l/min Verbrauch
184bar Startdruck
47bar Enddruck
21% Sauerstoff (Luft)