Notes
Welcome / check dive at the house reef of Magic Divers (Magic Life Club), also called "Ras Murat". First dive on Nitrox (EAN32). Everything worked quite well.
Entrance/exit is via the Jetty of the Hotel (about 200 meters to walk) - gear is being carried on small trolleys. The reef goes nearly vertical down to about 25-30 meters, and has some interesting topology in the top 10 meters mostly. It's not as pristine as in Ras Mohammed, but there's still a lot to see.
Photos
(6)
Dive profile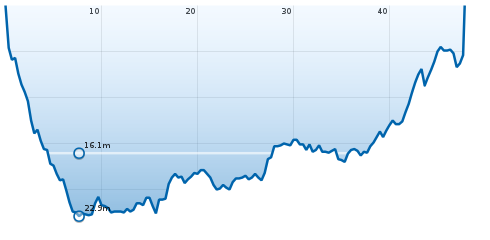 Duration: 47 minutes, maximum depth: 22.9m, average depth: 16.1m
Diver

50 dives • 174 photos
Alex did this dive on Nov 13 2012 in Sharm el Sheikh (at Ras Murat), went in at 08:27, reached a maximum depth of 22.9m, and surfaced after 47 minutes.
Location




Sharm el Sheikh, Muḩāfaz̧at Janūb Sīnā', Egypt
Buddies
Issa

(instructor)

Issa

(instructor)
Air Consumption
11.1
liters
13.3 l/min SAC
201bar start pressure
48bar end pressure
32% oxygen