Notes
Coral reef pillar, current on one side, did two loops around the piller. Found 1kg of weight, Octopus. Shallower dive than in the morning.
Photos
(12)
Dive profile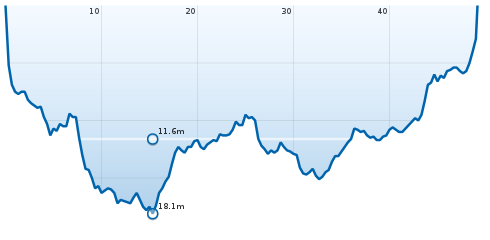 Duration: 49 minutes, maximum depth: 18.1m, average depth: 11.6m
Diver

50 dives • 174 photos
Alex did this dive on Nov 14 2012 in Sharm el Sheikh (at Temple), went in at 11:06, reached a maximum depth of 18.1m, and surfaced after 49 minutes.
Location




Sharm el Sheikh, Muḩāfaz̧at Janūb Sīnā', Egypt
Buddies
Air Consumption
11.1
liters
14.8 l/min SAC
212bar start pressure
67bar end pressure
32% oxygen