Notes
Zu den Plattformen auf 5, 8, und dann 12 Meter (Badewanne). Unter der 12m-Plattform einige Krebse, ein paar Fotos gemacht. Die Fische schwimmen heute fast in meerartigen "Schwärmen" - beim Rückweg (wieder die Plattformen) einen toten Signalkrebs gefunden, und auf dem Klo beim Elektroboot "probegesessen". Mario hat geführt.
Photos
(14)
Dive profile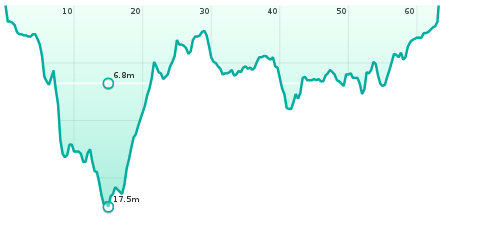 Duration: 1h 03 minutes, maximum depth: 17.5m, average depth: 6.8m
Diver

50 dives • 174 photos
Alex did this dive on Sep 11 2011 in Neufelder See (at Strandbad), went in at 11:05, reached a maximum depth of 17.5m, and surfaced after 1h 03 minutes.
Location




Neufelder See, Burgenland, Austria
Buddies
Air Consumption
10
liters
16.8 l/min SAC
220bar start pressure
42bar end pressure
21% oxygen (air)