Notes
Wieder zu den Plattformen, zur 12er, dann noch ein Stück tiefer. Richtung Norden, dann Nordwesten Aufstieg entlang der Geländekante. Auf 18m interessante Sprungschicht-formation - nur ein paar Zentimeter dicke "Staubschicht", wie milchiger Nebel - darunter fast komplett dunkel. Im flachen einen kleinen und großen Hecht gesehen - fast den gleichen Weg wie beim ersten Tauchgang retourgetaucht - wir kommen auch wieder am toten Signalkrebs vom letzten Tauchgang vorbei.
Photos
(2)
Dive profile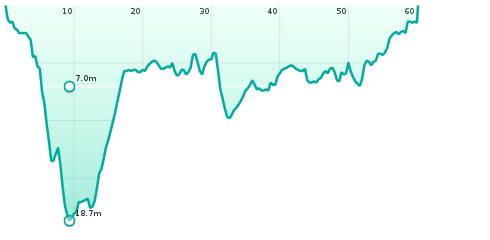 Duration: 1h 00 minutes, maximum depth: 18.7m, average depth: 7.0m
Diver

50 dives • 174 photos
Alex did this dive on Sep 11 2011 in Neufelder See (at Strandbad), went in at 13:21, reached a maximum depth of 18.7m, and surfaced after 1h 00 minutes.
Location




Neufelder See, Burgenland, Austria
Buddies
Air Consumption
10
liters
14.9 l/min SAC
202bar start pressure
49bar end pressure
21% oxygen (air)