Notes
Zu den Plattformen (unterwegs beim Elektroboot vorbei - keine Krebse), dann noch ein Stück runter - dort den einzigen Krebs an einem der Christbäume gesehen. Sprungschicht auf etwa 12m, darunter *wirklich* kalt (sicher weniger als die 16 Grad vom Computer). Im Freiwasser nach Norden, dort dann auf 5m rauf, und wieder Richtung Plattformen - ein paar Sonnenbarsche, Rotfedern und ein wirklich großer, sehr geduldiger Hecht. 6kg Blei mit 10-Liter-Flasche sind fein.
Photos
(7)
Dive profile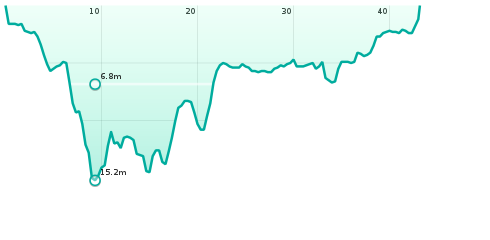 Duration: 43 minutes, maximum depth: 15.2m, average depth: 6.8m
Diver

50 dives • 174 photos
Alex did this dive on Aug 14 2011 in Neufelder See (at Strandbad), went in at 12:02, reached a maximum depth of 15.2m, and surfaced after 43 minutes.
Location




Neufelder See, Burgenland, Austria
Buddies
Air Consumption
10
liters
16.8 l/min SAC
212bar start pressure
90bar end pressure
21% oxygen (air)