Notes
Direkt vor der Tauchbasis ins Wasser, dann unter dem Bach durch - Sicht oben ganz gut, zwischen 3 und 12m Tiefe keine 3 meter. Darunter wieder gut, aber finster! Eine Menge Grundeln, ein paar Wolfsbarsche (?), in der Bachmündung ein paar Forellen, eine Menge "Krempel" im Wasser. 5kg Blei waren mit der 10-Liter-Flasche am Schluß zu wenig! Am Ende war's schon ziemlich kalt, vor allem in den Fingerspitzen mit dem 3mm-Handschuh.
Photos
(7)
Dive profile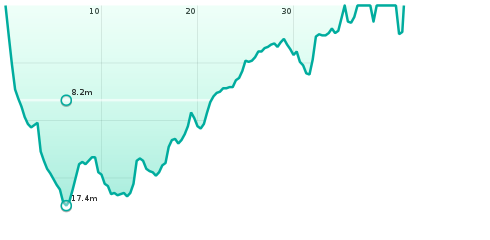 Duration: 41 minutes, maximum depth: 17.4m, average depth: 8.2m
Diver

50 dives • 174 photos
Alex did this dive on Aug 06 2011 in Grundlsee (at Rostiger Anker (Gößl)), went in at 12:22, reached a maximum depth of 17.4m, and surfaced after 41 minutes.
Location




Grundlsee, Styria, Austria
Buddies
Air Consumption
10
liters
17.8 l/min SAC
175bar start pressure
40bar end pressure
21% oxygen (air)