Notes
Zuerst zu den Plattformen auf 5/8m, dann einen Viereckskurs Westen -> Norden -> Osten (in der Hoffnung, die "rote Wiese" zu finden, aber leider nix..).
Auf 5m dann wieder Richtung Süden zu den Plattformen.
Viele relativ große Signal-krebse unter der 8er-Plattform, keine unter dem Elektroboot, ein Krebs verteidigt sein Loch. Hecht, viele Sonnenbarsche - fast schon in Schwärmen unterwegs.
6kg Blei sind mehr als genug - erster TG mit Mario. Lampe ist im Neufelder See unnötig.
Dive profile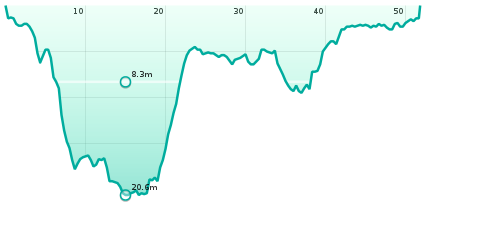 Duration: 51 minutes, maximum depth: 20.6m, average depth: 8.3m
Diver

50 dives • 174 photos
Alex did this dive on Jul 10 2011 in Neufelder See (at Strandbad), went in at 08:40, reached a maximum depth of 20.6m, and surfaced after 51 minutes.
Location




Neufelder See, Burgenland, Austria
Buddies
Air Consumption
12
liters
18.9 l/min SAC
203bar start pressure
54bar end pressure
21% oxygen (air)