Notes
Sehr schöne Unterwasser-Topografie, zahlreiche Felsblöcke, kleine Canyons, Geröllfeld,aber auch Seilwände mit Überhang. Riesige Mönchsfisch-Schwärme, Barracudas (etwa 30 im Schwarm), Schriftbarsche, Meerjunker, Moräne ganz sichtbar in Felsspalte, Bandbrassen (Schwarm), Seesterne. Nico geht beim Sicherheitsstop die Luft aus - Manu spendet Luft, Boje & retourschwimmen zum Boot. Funktionsfähige (aber nicht geladene) Harpune gefunden in etwa 8m Tiefe. Wellen und Wogen. Tolle Sicht - super Tauchgang!
Dive profile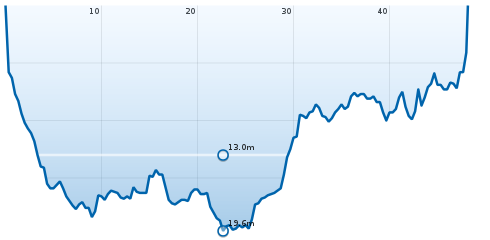 Duration: 48 minutes, maximum depth: 19.6m, average depth: 13.0m
Diver

50 dives • 174 photos
Alex did this dive on May 20 2011 in Sant Elm (at Dragonera, Aquarium), went in at 12:45, reached a maximum depth of 19.6m, and surfaced after 48 minutes.
Location




Sant Elm, Balearic Islands, Spain
Buddies
Nico

(buddy)

Manu

(guide)
Air Consumption
12
liters
15.1 l/min SAC
201bar start pressure
58bar end pressure
21% oxygen (air)