Notes
Erster Tauchgang 2011 - Am Anfang Schwierigkeiten, 8kg Blei mit Eisweste gehen *gerade* noch - oder ist die 6monatige Pause Schuld? Plattform auf 5m / 8m gleich gefunden, 2 große Krebse "knutschen" unter der Röhre. Auf 19m schlechte Sicht und ziemlich finster. Ein paar kleine Barsche, und beim Rückweg auf 4m ein Schwarm wirklich fetter Karpfen. Zahlreiche Krebse unterm Elektroboot. Temperatur war überraschenderweise mit 7mm Anzug + 7mm Eisweste gut auszuhalten - neue Handschuhe passen perfekt.
Dive profile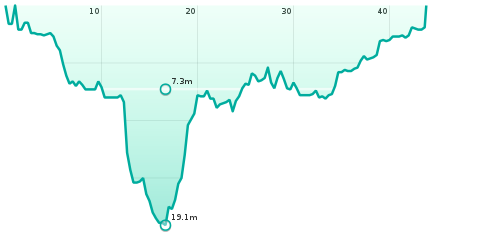 Duration: 43 minutes, maximum depth: 19.1m, average depth: 7.3m
Diver

50 dives • 174 photos
Alex did this dive on Apr 09 2011 in Neufelder See (at Strandbad), went in at 13:42, reached a maximum depth of 19.1m, and surfaced after 43 minutes.
Location




Neufelder See, Burgenland, Austria
Buddies
Air Consumption
12
liters
22.0 l/min SAC
200bar start pressure
61bar end pressure
21% oxygen (air)