Notes
First "certified" dive. Lots of kelp, lobster nest (4 large ones!), Manta Shrimp! school of small orange/blue fish. Whole group got ripped up by current during ascent. King Neptune boat.
Dive profile
(estimated)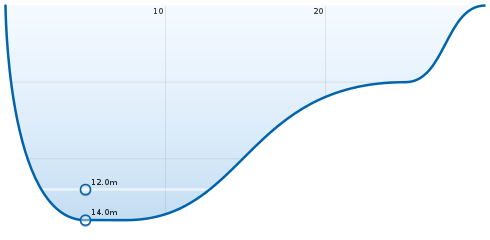 Duration: 30 minutes, maximum depth: 14.0m, average depth: 12.0m
Diver

50 dives • 174 photos
Alex did this dive on Mar 21 2010 in Santa Catalina Island (at South of Avalon), went in at 14:30, reached a maximum depth of 14.0m, and surfaced after 30 minutes.
Location




Santa Catalina Island, California, United States
Buddies
none listed
Air Consumption
?
no pressure data
21% oxygen (air)