Notes
3rd Open Water certification dive - first boat dive ever (King Neptune boat). We went from avalon for about 40 minutes towards the north. The dive itself was pretty good - everything worked perfectly! Lovely underwater scene, lots of monk fish in large schools, Sea grass, etc. Didn't have too much time to look at all of it because i was still pretty excited, and also had to do some exercises. Needed a lot of air, and was probably very much overweighted.
Photos
(4)
Dive profile
(estimated)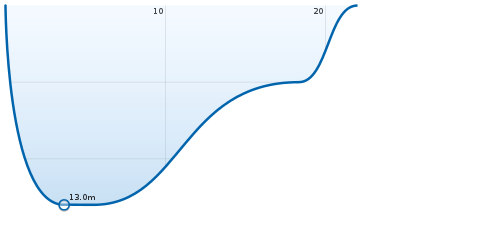 Duration: 22 minutes, maximum depth: 13.0m
Diver

50 dives • 174 photos
Alex did this dive on Mar 21 2010 in Santa Catalina Island (at Bird Rock), went in at 09:00, reached a maximum depth of 13.0m, and surfaced after 22 minutes.
Location




Santa Catalina Island, California, United States
Buddies
none listed
Air Consumption
?
no pressure data
21% oxygen (air)