Notes
Erster Tauchgang "alleine" ohne Tauchlehrer. Wir verlieren einmal die Orientierung und tauchen auf. Unter Wasser finden wir die Tarier-Röhren, den Gartenzwerg, die Gedenktafel, mehrere Christbäume, dann wieder retour auf die 5m/8m-Plattform, dann zum Elektroboot. 6kg Blei mit der 10l-Flasche sind fein. Am Schluss im Flachbereich kreuzt noch ein Tretboot unseren Weg, wir tauchen zwischen den Badegästen auf.
Dive profile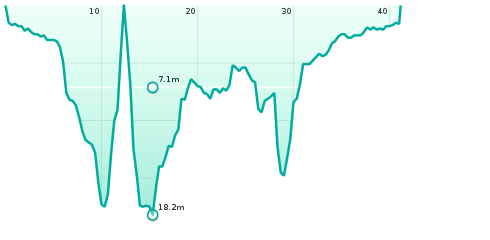 Duration: 41 minutes, maximum depth: 18.2m, average depth: 7.1m
Diver

50 dives • 174 photos
Alex did this dive on Jul 11 2010 in Neufelder See (at Strandbad), went in at 13:03, reached a maximum depth of 18.2m, and surfaced after 41 minutes.
Location




Neufelder See, Burgenland, Austria
Buddies
Air Consumption
10
liters
22.1 l/min SAC
205bar start pressure
49bar end pressure
21% oxygen (air)